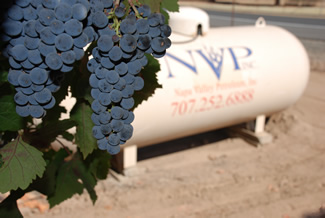 Napa Valley Petroleum offers a wide variety of propane products and services ranging from an individual propane cylinder for your gas grill to on-going propane delivery for your large facility.
We have above ground and underground tanks, resale propane dispensers and frost protection tanks available. We can install tank monitoring systems when needed, we do piping and there are no hidden fees.
Complimentary services include gas checks, tank set and transfer of fuel, site evaluation, 24/7 on call service, and on-site training (filling cylinders).
Why choose us?
As a local service provider, we foster close relationships with our customers and go the extra mile to serve your needs as you need them. And with a diversified business model offering more than just propane, we have more flexibility in our cost model that generally allows us to offer lower prices than other propane providers to the Napa and Sonoma Valley areas.
We hope you will contact us and offer us the opportunity to serve your propane needs.
How to get started?
Propane Delivery Service
To order new propane delivery service, follow these steps:
Call and schedule a free on-site evaluation at 707-252-6888, (to identify optimal tank placement, assess road access and review tank size recommendations);
Schedule your first delivery.
Cylinder Exchange
To learn more about our cylinder exchange program, such as how and where to obtain or refill a personal propane cylinder, visit our cylinder exchange program page.
Questions?
To ask about or order any of our other services, or to ask ANY questions about our services above, please call us at 707-252-6888.  We look forward to hearing from you.