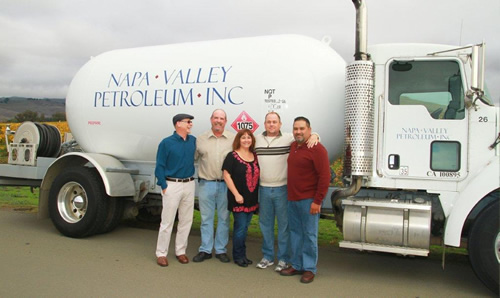 Napa Valley Petroleum, has enjoyed a long history of service to the valley as well as surrounding counties of the north bay. From the acquisition of Ed Conolly's Mobil distributorship in St. Helena, joining with Bill Bresciani's Exxon Distributorship in 1987, and bringing Webb and Webb's distributorship into the fold, Napa Valley Petroleum has always sought to strengthen its commitment to the agricultural, business, and construction community, as well as providing clean, and safely operated retail outlets throughout the region that we too live in.
In 1991, John Chasuk, an attorney, architect, chef, and truly one of the most interesting men in the world, purchased Napa Valley Petroleum from Chuck O'Conner. Over the next 18 years, John grew the retail and cardlock locations from 1 to at one time 8.
As we entered the 2000's and beyond, under John's leadership and vision, NVP moved into its new corporate offices and plant in the repurposed "Langendorf Bread" building as well as jumping head first into a CNG facility, Bio Diesel, and the propane distribution business.
In July of 2009, all of us at NVP, as well as everyone that came in contact with him, lost one of the true "renaissance" men in the region. John was an entrepreneur and philanthropist, and deeply committed to the community he had chosen to call home just 18 years before.
Through his amazing generosity, and commitment to the culture that his company was an extension of his family, five long term employees were entrusted with 50% of Napa Valley Petroleum, Inc. These employees were able to purchase the remaining 50% from John's estate in 2010.
Today, NVP, continues John's vision and belief of treating their customers and employees, like family, which has served it well in maintaining dedicated, long term customers and employees.
NVP partners:
David Massey
Tim Cardoza
Tiffani Vizza
Raul Ortega
John Horrell